In the picturesque city of Lipik, interactive learning and encouraging collaborative work gave a fresh perspective on familiar landmarks.
The IE Certified Interpretive Guide (CIG) course held in May 2023 in the eastern Croatian city of Lipik was organised through the Terme Lipik integrated project for the development and revitalisation of the cultural heritage of Lipik. The CIG course was part of the project aiming to enhance the skills of guides and interpreters in presenting cultural and natural heritage using interpretive guiding methods and techniques. The training was organised by Muses Ltd. 
Ivona Pavković, one of the trainees, expressed her deep appreciation for the course: 
"The training provided me with a fresh perspective on heritage and equipped me with practical tools to engage the general public. I found the acquired skills to be applicable not only in my professional life but also in everyday situations. Additionally, I cherished the opportunity to meet wonderful people, share valuable experiences, and have a lot of fun throughout the course."
Another trainee, Ivana Pleše, who works as a tourist guide, shared similar sentiments about her experience:
"The inspiring leadership of the creative team of trainers and their encouragement to actively think about the interpretation of cultural heritage has further affirmed the quality of their work which I already experienced while collaborating on the conceptual phase of the Interpretation Centre in Lipik. This training programme enables tourism professionals like me to expand and refine the knowledge that we already use with new methods and techniques. The course fosters an intensive and interactive learning environment that encourages both independent and collaborative work, facilitating the development of new ideas and narratives. Fieldwork conducted at local tourist sites offered participants a fresh perspective on familiar landmarks. Through this education, the significance of preserving and interpreting the heritage of Lipik became evident, sparking valuable ideas from all participants that will lead to numerous future collaborations and content creation."
Interpret Europe's CIG training in Lipik represents for cultural heritage interpreters a significant step towards the professional development of guides in Lipik. It provides them with the opportunity to acquire new knowledge and skills while strengthening their ability to inspire visitors and foster a deeper connection to the region's rich cultural and natural heritage.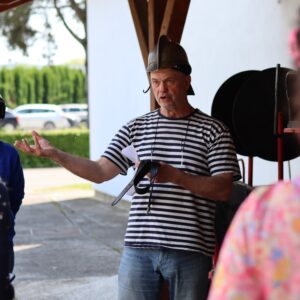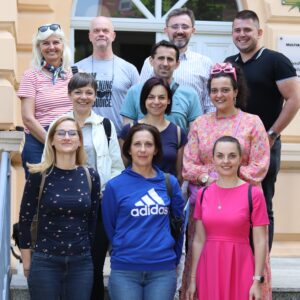 Image 1: Participants doing the outdoor exercise, by Meri Vesanovic (Muses Ltd)
Image 2: Course group photo, by Meri Vesanovic (Muses Ltd)
Matija Kulhavi is a media and communication professional who works as Editor in Chief for the media and news company Compas Lipik (https://compas.com.hr/).

To cite this article:  Kulhavi, Matija (2023) 'CIG gives a fresh perspective' in Interpret Europe Newsletter 2-2023, pg.16.
Available online: https://interpret-europe.net/wp-content/uploads/2023/07/Newsletter-2023_2-summer.pdf