Looking at the building blocks of the past, present and future of an Irish town through Lego – inviting input from children and adults alike.
In September, I attended a truly inspiring event in the town of Drogheda in Co Louth, Ireland, as part of Irish Heritage Week. Set in the fine Georgian residence of Barlow House, even the event's location spoke to me, as neighbouring this beautiful five-bay, three-storey townhouse is the first of many, derelict or underused buildings that blight the town.
We were invited to join Jessica Farrell, Ireland's leading professional LEGO® Brick Artist and the Museum of Childhood Ireland for a family workshop to explore Drogheda's built heritage and its future in a truly imaginative way. 
This public consultation with an interpretive twist really attracted interaction. It enabled the views of the people that matter in any town, its children, to be gathered in a fun and interactive way. Instead of being met with impenetrable presentations and architects' drawings peopled by impossibly happy images of future folk walking in the sunshine, as usually occurs at public consultations, we were welcomed with an interactive, hands-on, microscale model of West Street, an area of Drogheda town centre, built entirely from LEGO Bricks. In this model, the stark reminder of dereliction and under-use was clear to see; all abandoned or under-utilised buildings were shown in dark grey with black windows, like sad gaps in a smile.
The idea of the event was to let young people and families make representations of their hopes and desires for the town's Built Heritage and its future. The model functioned as a colourful, 3D map, beside which the 'wish lists' and other contributions are added. In a section of the event called My Wish, My Town, different zones of the town were identified, and people were invited to make symbolic models to vote for different uses or provisions in each familiar area; participants were asked what they wanted to see more of in the town and to choose their top three from features such as trees and flowers, benches and tables, recycling bins, street art, bus shelters, and the like. 
The children then built their chosen three following simple instructions – this appealed to adult Lego-ers as well, and many grown-up attendees had old passions relit, me included – these models were then displayed as a kind of physical bar chart.  
People were invited by play workers to respond to the blacked-out buildings by creating different coloured mini models for their top two choices selected from a range, including necessary shops (food, clothes, and tools), community buildings (youth clubs, learning, arts), and homes (houses, apartments, and shelters) etc. And again, the models were displayed as a visible record of the people's vote. 
This project aimed to give a voice to the people of the town through collaboration on visions for the town's future while initiating inter-generational conversations through the language of LEGO bricks. This was one of the best town planning events I have ever been involved in. The interpretive tools of play and face-to-face communication were superb. Sadly, it wasn't organised by the council that is responsible for decisions to reverse the dereliction, but by a local theatre company, Upstate Theatre. Hopefully the results will be heeded, and the sad decline of this beautiful town can be halted.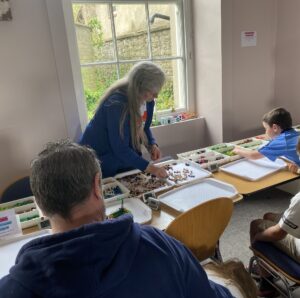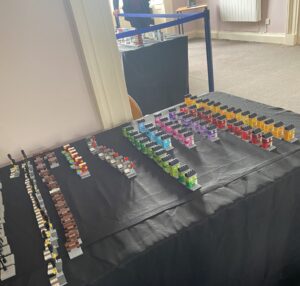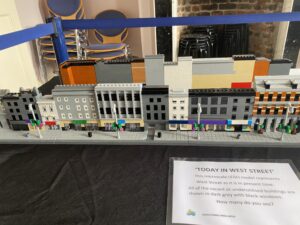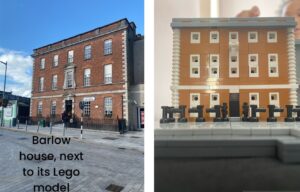 Building and street models showing the current state of the high street with disused buildings represeted in grey, Images: Abby McSherry
Abby McSherry works for Newry Mourne & Downe County Council as AONB and Geopark Officer. She has worked on various projects including outreach for ancient cultural sites and AONBs, the CANN Project, wetland conservation for wildlife and people, and was instrumental in obtaining the Global Geopark status for Mourne Gullion Strangford Geopark (www.mournegullionstrangfordgeopark.com) where she is now responsible for the Ring of Gullion. Abby has also committed many years to her local Scout group in Ireland. She can be contacted at: [email protected]. 
To cite this article: McSherry, Abby (2023) 'Examining the Future 'in Interpret Europe Newsletter 3-2023, pg. 15-16.
Available online: https://interpret-europe.net/wp-content/uploads/2023/10/PDF-Newsletter-2023_3-autumn.pdf