In only one month before the conference in Romania, we have raised enough donations to invite four Ukrainian members to join us and discuss the post-war development of interpretation in the country. 
Day after day, people in Ukraine are suffering from war. A crime of aggression, that many thought was unimaginable in today's Europe, is shaking our peaceful coexistence to its very foundations. UNESCO is calling for value-based heritage interpretation. Is there any prospect for undertaking this in Ukraine? What can we do today to help foster peace and sustainability in the longer run? We discussed   such questions at our recent conference, while Managing Director of Interpret Europe Helena Vičič and Thorsten Ludwig held a special meeting with the four members from Ukraine to hear about their concerns, and explored ideas on how value-based heritage interpretation can help Ukraine in the post-war recovery.
€1,789 were finally needed to support four attendees from Ukraine. The amount has been brought up by 15 donators including two institutions.
Big thanks to our donors:
Thorsten Ludwig
Patrick Lehnes
Sebastian Bellwald
Helena Vičič
Marie Banks
Barbara Gołębiowska
Valya Stergioti
Arpad Bőczén
Bettina Pahlen
Vít Březina
Janja Sivec
Red Kite Environment Ltd
Czech Association for Heritage Interpretation
2 anonymous donors
A note of gratitude by IE Country team Ukraine
"The IE Ukraine team is sincerely grateful to everyone who made donations to help Ukrainians to participate in the IE conference in Sighișoara. A huge thank you for your attention, generosity and solidarity. We appreciate this opportunity to be part of a great IE family. Your help and support gave us feelings of hope. It is very important to know that you are with us. We believe that we can apply the inspiration and knowledge we received for the future restoration of Ukraine.
Thank you!"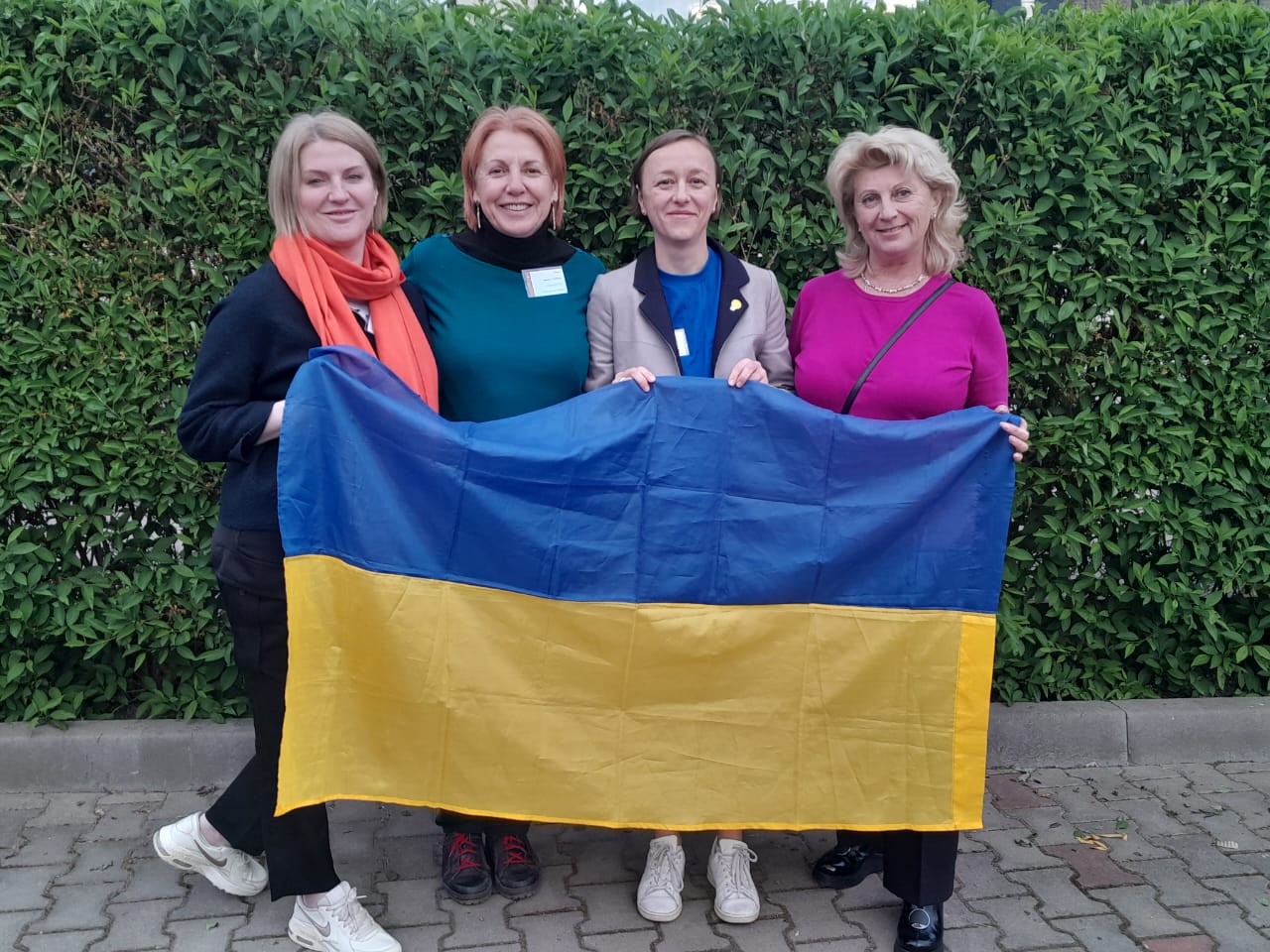 Interpret Europe stands in support of our Ukrainian members and all others suffering during the Russian aggression. The below plea from our country coordinator for Ukraine outlines some of the key heritage losses suffered so far and some concrete ways that you can help if you would like to.
I'm writing on behalf of the community of interpreters in Ukraine and the people affected by the unspeakable atrocities of the past weeks.
Russia's inexcusable war against Ukraine started on February 24, 2022. Since then, it has claimed the lives of thousands of Ukrainian people and caused a humanitarian catastrophe in cities and villages across our country. Missiles, bombs and heavy artillery has led to devastating damage.
The Russian aggression is aimed not only at the present and future of Ukraine. It is depriving the people of Ukraine of their past. Many of our most precious monuments and historic buildings have been demolished or damaged by missiles, flying debris and blast waves. The historic parts of Kharkiv (including the Cathedral and the House of Writers), of the Zhytomyr region (Church of the Nativity) of Chernihiv (Elijah's Church and the Museum of Ukrainian Antiquities), of Sviatohirsk in Donetsk region (the Holy Dormition Lavra) and many more cultural gems have been damaged or are under threat. Ancient wooden churches in the village of Vyazivka in Zhytomyr region and a church in Zavorychy village in Kyiv region were ravaged. These are only a few examples.
We've lost the Museums of History and Local Lore in Okhtyrka and Vasylivka, the Ivankiv Historical and Local History Museum in Ivankiv, the railway station in Okhtyrka, Kharkiv V G Korolenko State Scientific Library and the Theatre in Mariupol. The fate of our heritage is still unknown in the occupied territories but here is some photographic evidence collected by the Ministry of Culture: https://life.pravda.com.ua/culture/2022/03/17/247854/.
However, government and heritage institutions are implementing measures to protect Ukraine's museum collections.
We ask you fervently to support the volunteer initiatives which are taking care of cultural and natural heritage in Ukraine. They are collecting information about the destruction of heritage sites and other military crimes and are developing a system to help and support museum teams and other cultural institutions, as well as nature parks and zoos. Unfortunately, at the moment, they can't help those cities that are directly under siege or under heavy bombing. However, they are doing their best to help, to evacuate heritage items and to rescue people and animals.
There is an immediate threat to our people who are the bearers of cultural traditions. Officially, at least 1,417 civilians have been killed but the actual figures are considerably higher. Ukraine's estimate is that 3,000 civilians died in Mariupol and Kharkiv alone in the five weeks leading up to 1 April.
Please, help us to prevent as much damage as possible and support civic initiatives that need support in protecting moveable tangible heritage as well as wildlife.
Here are some concrete ways you can help.
Follow the links to donate directly or transfer funds to relevant bank accounts.
We will be so grateful for any help you can give.
Heritage Emergency Response Initiative or TUSTAN is the organisation helping to protect and evacuate museum collections and cultural heritage.
Contact person: Khrystyna Kundyra, [email protected]; Bank account details
Ukrainian Nature Conservation Group is helping save natural heritage in protected areas (humanitarian help for families with children evacuated to national parks, financial help for buying bulletproof vests and essential equipment for employees involved in protecting the land close to the frontline, etc.).
Contact person: Oleksij Vasyliuk, mobile +380971000473 [email protected]
Donations through this site: https://uncg.org.ua/save-wildlife-in-war/
Direct help for Ukrainian army and doctors:
Many thanks on behalf of the community of interpreters of Ukraine.
Nataliia Gudkova, IE Country Coordinator Ukraine