Did you ever cry looking at a painting? Here's some reflections on the Kunstuur, record-breaking arts exhibition in Belgium.
Inviting her to Mechelen
We had the pleasure to meet in Mechelen this Spring, Helena and I. For me it was a throw back to 2016 when we organised the Interpret Europe conference there. Only good memories and so many places there with a special connotation because of the stories and the people related to these places. I was happy to share them with Helena again. 
A curious exhibition concept
But the main reason to invite Helena to Mechelen specifically, was the exhibition named 'Kunstuur'. The Kunstuur Mechelen (https://hetkunstuur.com/) exhibits top works from the period 1850-1950. Each painting is accompanied by a story told by a well-known or less well-known Fleming. Together with the unique lighting and the adapted music by Dirk Brossé, this ensures an hour of enchanting art in a historic location, the Heilige Geestkapel, right opposite St Rumbold's Tower.
Kunstuur breaks all records in Belgium. More than 150,000 people have visited this experience so far, which is organised by one the country's most mainstream culture producers (used to making TV programmes for children, so not a traditional museum team). The concept is simple: a one-hour exhibition, strictly timed, with a limited amount of people walking from one dark room to the next, where you follow an audio voice telling a story about the painting you see highlighted in the dark in front of you. But you are not just hearing a voice (or music), you also see this person in a 3D video screen next to the painting. The voice/person is different for every painting, because every painting has its own story.
It is already the fifth exhibition in Mechelen and the concept (with other paintings) is executed in two other locations in Belgium. This could be considered very successful. Also, because it is now a known experience, this exhibition doesn't attract the 'typical museum lovers'; it is loved by a wider range of people.
I was so curious how an expert interpreter would experience this exhibition. Is this interpretation? What can we learn from this? We experienced it together, Helena and I. For me it was the second time and it fascinated me again; I even cried at one point. Did you ever cry looking at a painting?
Interpretation or not? I asked Helena a few questions afterwards
Helena, you were most curious about the proposal of visiting this exhibition; what did you expect when I told you we would visit a one-hour exhibition without a guide but with an audio system? 
Considering that you proposed it, I figured it would be something different (for example, such as the Tate in London), but I didn't expect it to be so thoughtful, personal, emotional and… interpretive.
Do you remember your first impression when the audio voice started to speak and told a story?
I needed some time to understand the concept and, to my surprise, it crossed my mind that the authors have followed interpretation principles. I also thought that this is a wonderful training for non-arts audiences on how to view paintings or any arts. How liberal you could be in your own interpretation and that interpreting arts doesn't necessarily mean you need a background in arts-history. 
Do you remember one painting in particular? Why this painting? What struck you the most? And why?
Just like you, I cried too, at the painting of a soldier and his wife with a child, taking a farewell. It was interpreted by a Ukrainian refugee in Belgium (that was at the same time projected on the wall next to the painting). She shared her own interpretation of the painting and she didn't know much about it or its author at all, but she was asked to share her own thoughts and emotions and so she explained how the motif touched her due to her own situation, having her husband at home defending the country. 
Did you feel any other emotion during this one-hour trip? When? And why?
It was a very intense journey into various interpretations that often didn't have anything to do with the context and facts around the art works or artists. The stories connected to the paintings were told by ordinary people, sharing their own memories and personal connections to something in the painting. So, I tried to follow the stories and think of how I would interpret the particular painting. However, I must confess that most of the time, I was evaluating the 'product' so to say!
What is your overall impression of this exhibition? Is this interpretation? Why? Or why not?
Yes, to a higher degree, it is interpretation. It involves surprising and intriguing audio and video effects, personal stories and connections and it is serving facts only to a lesser degree. It involves human values and universal concepts and thus tries to be relevant for all people. However, there is still room for improvement. This was interpretation that is served to the public. It was seemingly a product of interpretation by quite ordinary people, so you don't have a feeling that some authority or expert is talking to you from a higher stance. Still, it is not your own interpretation, which would have been the optimum. In addition, there were no moments (or media) created where the group (of eight) could interact with each other, were they could share some thoughts or feelings in order to reflect together. In each room, once the 'virtual guides' guide you through all the paintings, there was a minute of classical background music that gave you little time to reflect for yourself. But I personally took that time to reflect upon what was told to me and I didn't come up with my own connections.
Could you give a tip for the makers of this exhibition to improve it? Or what would you advise them?
Indeed, there were a couple of elements that can make every interpretation exquisite, but were missing in this particular exhibition which was a pity. Visitors/spectators/audience, if you will, remain in the passive role of a spectator/audience.
Besides, the social aspect of a whole interpretive experience was just not there. Although we spent one hour with several others, probably very interesting people on the same tour in the same space, we were not brought once into an exchange. Even if that could have happened spontaneously during the tour, we wore a headset all the time, which broadcasted classical music when there was time for absorbing the arts on our own, so each of us walked through in a separate bubble. Imagine how rewarding the experience could have been if people could have talked with strangers, or with a live guide, about all those strong feelings!

Just the same conclusion I have about another 'must see' place in Belgium that I visited the day before. Again, devices, such as VR, audio tour, headsets, video, all wonderfully embedded in the exhibition, and again, you spend one full hour with other people, even sit at the same table at one point. However, the creators didn't think of how important it is for people to express themselves, to actively participate and to build their own interpretation on interactions with other people. So, one conclusion is definitely, that digital devices should not isolate people from each other or prevent them from creating their own meanings in a direct experience of heritage.  
Thank you, Helena, for this meaningful contribution. 
I can speak for both of us, that we share such a valuable experience together now. Visiting places and sharing opinions on interpretation and presentation across borders is so wide-ranging and meaningful. 
Let's invite each other from time to time to visit places and share opinions. And build a connective network of heritage professionals together. 
And now, let's have some tea together! Our approved address for tea, beer and cookies is the Art-Nouveau café 'The Golden Fish' in Mechelen. You can find us there, from time to time.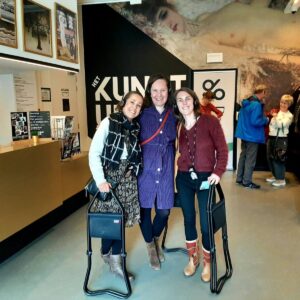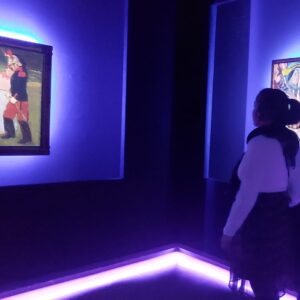 Experiencing the Kunstuur exhibits, Images: Laila DeBruyne
To cite this article:  De Bruyne, Laila and Vičič, Helena (2023) 'Kunstuur – An extraordinary exhibition in Mechelen ' in Interpret Europe Newsletter 2-2023, pg. 22-23
Available online: https://interpret-europe.net/wp-content/uploads/2023/07/Newsletter-2023_2-summer.pdf
Laila De Bruyne is community manager at Revive, a developer of (historic) brownfield sites where she manages community building projects and heritage interpretation initiatives.  She is also a freelance consultant in participatory future vision planning of religious patrimony (revaluation of places). And is Country Coordinator for Belgium at Interpret Europe. Get in touch with her at: [email protected].
Helena Vičič is IE's Managing Director. She can be contacted at: [email protected].